TAMPA BAY, Florida — Applications are currently being accepted for a cost-free education program that will connect Tampa Bay-area business owners with resources designed to help grow their companies.
The program is called Inner City Capital Connections (ICCC). ICCC provides business education, marketing assistance and one-on-one coaching for businesses that are growth oriented and have a presence in or near urban or economically underserved areas.
Eligible business owners can come from communities throughout the Tampa Bay area, the Florida Suncoast and the Interstates 4 and 75 Corridors.
The program is offered free of charge due to financial support from Regions Bank and community partners. Regions recruited ICCC to Tampa Bay for the first time in the program's history. Community partners joining Regions include Florida Blue, Carlton Fields, the Community Foundation of Tampa Bay, Ernst & Young, United Way Suncoast, the University of South Florida St. Petersburg and Valpak.
"Tampa Bay's economy is on fire and growing, and we want to make sure nobody is left behind," said Marty Lanahan, West Florida Area President for Regions Bank. "This program levels the playing field. It gives entrepreneurs access to the types of information, expertise and investments they need to help their businesses thrive. As local businesses grow and succeed, they create more jobs, and our entire region is made stronger."
ICCC is part of the nonprofit Initiative for a Competitive Inner City, which was founded by Harvard Business School Professor Dr. Michael Porter to strengthen communities through education and private-sector investment. Business seminars at ICCC events are delivered by nationally recognized experts from Harvard, Northwestern, MIT and other leading institutions. ICCC also connects businesses with local professionals who provide customized coaching and feedback.
The program will culminate in the Tampa Bay area with an all-day business education conference at the University of South Florida's CAMLS facility on Wednesday, Sept. 13. Webinars and follow-up opportunities will also be available to help entrepreneurs continue developing their skills.
Interested business owners are encouraged to apply soon. Applications will be accepted on a rolling basis until the conference is full.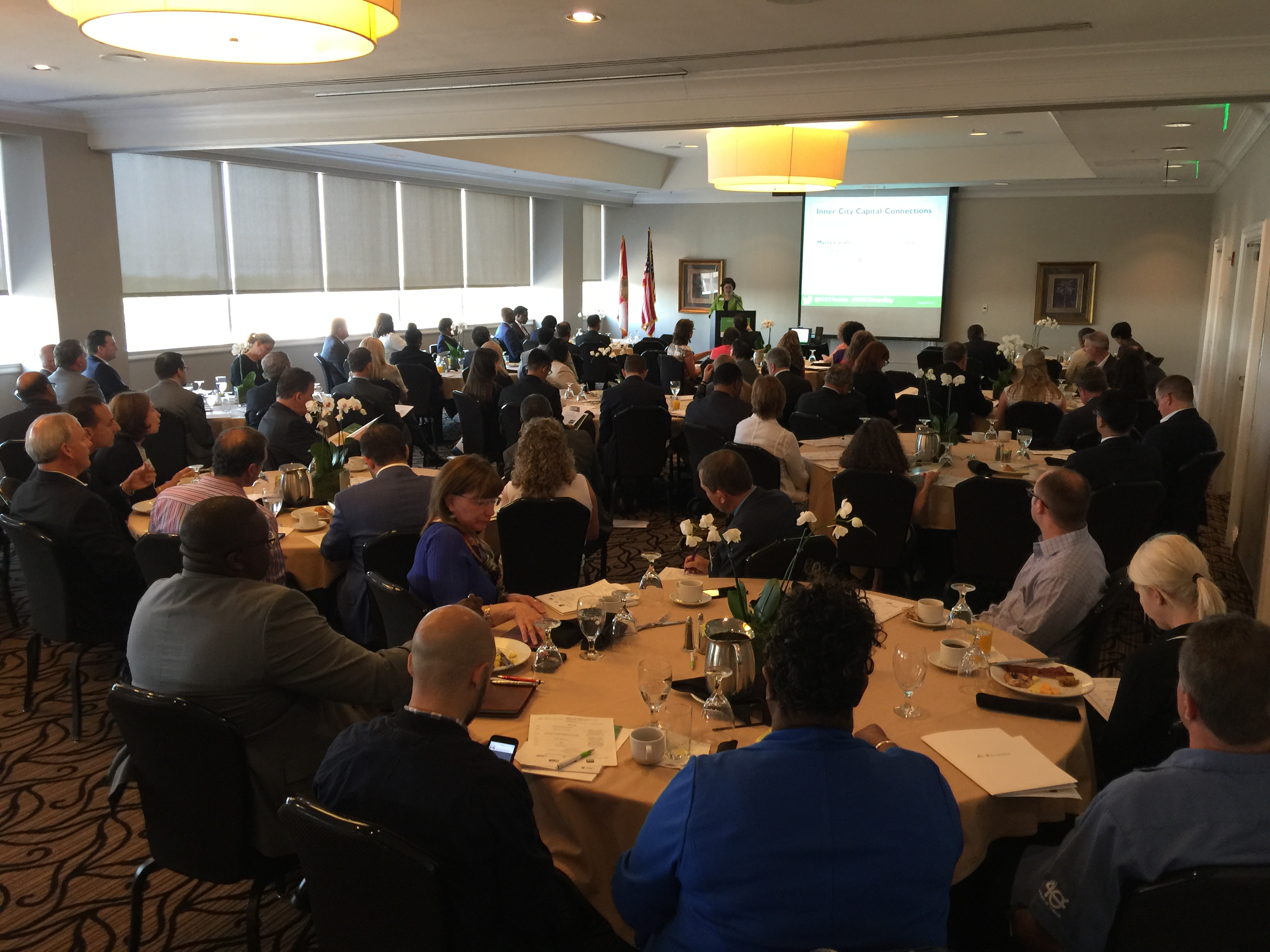 ICCC will review applications based on program criteria and select businesses to take part. ICCC also presents a national investors conference in New York each fall, and local businesses that are eligible will be invited to participate.
Business owners can learn more about ICCC and the program's qualifications at this link. Those who would like to participate can access the online application here.
ICCC Director Hyacinth Vassell said since ICCC started in 2005, representatives of more than 1,100 businesses have participated in ICCC programs in cities across the country. Those businesses have since raised more than $1.4 billion to grow their businesses – while creating approximately 12,000 jobs.
Vassell said Tampa Bay-area business owners would come away from this year's program with a deeper knowledge of how to achieve long-term success.
"They'll have a better understanding of how to grow their business more effectively," Vassell said. "They will understand what it means to be 'lendable.' They will be more intentional about their growth. They will be more thoughtful about capital infusion. So we'll be seeing a lot more businesses that are going to be getting wealth creation and job creation happening."
Vassell added that ICCC is not geared toward startup companies. Instead, the program is aimed at helping business owners take existing companies to the next level.
Steve Grossman, CEO of the Initiative for a Competitive Inner City, visited the Tampa Bay area to meet with civic and business leaders and share the vision for September's ICCC Tampa Bay event.
"It changes people's lives – not by throwing a lot of words at them but by offering them a 40-hour mini MBA on steroids," Grossman said. "It's going to be intense. It's going to be rewarding. It's going to be amazing."
Regions Bank St. Petersburg President Jim Donatelli said there are many businesses in urban or underserved communities that offer competitive products and services. The key to long-term success, he said, is for business owners to utilize expertise and guidance that can help them strengthen their business plans and grow in a way that reaches more customers, creates more jobs and further enhances the Tampa Bay area.
"You want to make sure when your economy is growing that as many people are coming along with that growth as possible, and we see this as an opportunity to bring a unique resource to local entrepreneurs," said Donatelli, who serves as Chair of the Board of Governors for the St. Pete Chamber of Commerce. "There's a lot of businesses that have good products, that have good services; they just need support to get to the next level of growth."
Lanahan reiterated the program is free. All business owners must do at this point is apply.
"We have seen the results of ICCC in communities across the country, and now, it's Tampa Bay's turn," Lanahan said. "This is a chance to learn directly from some of the brightest business minds in the country. And it's free. So there's no reason not to apply."