KENNER, La. – June 13, 2018 – Regions Bank on Wednesday cut the ribbon to celebrate the opening of a modern branch facility designed to serve the people and businesses of Kenner and surrounding communities.
"Regions Bank is committed to Jefferson Parish and the Greater New Orleans Region, and we are excited to offer modernized services here that make a visit to the bank more convenient and more meaningful," said Graham Ralston, New Orleans Market Executive for Regions Bank. "As always, our branch is staffed with dedicated, local professionals who help our clients reach their financial goals. And this is now our newest branch to offer Regions Video Banking, which expands personal service to evenings, weekends and holidays. The result is a branch that's better suited to meet the needs of today's clients, while maintaining the local expertise and personal services that set Regions apart."
The branch is at 3525 Williams Boulevard, one block north of W. Esplanade Avenue. The modern facility replaces two older Regions branches at 810 W. Esplanade and 3701 Williams. The new location allows Regions to blend personal service with a more modern layout and more convenient technology.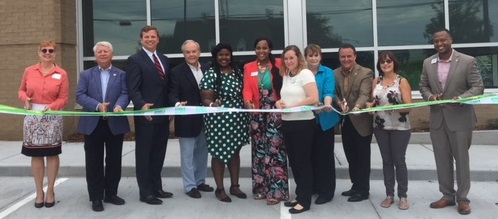 The branch is staffed with experienced Regions professionals who moved with the company from the older branches to the new location. In addition to helping customers with general transactions, Regions bankers are also focused on offering more in-depth conversations to meet customers' needs.
"At Regions, we are committed to what we call 'relationship banking,' where we take the time to listen to individual clients and local businesses, ask the right questions, and then offer advice that's custom-tailored to meet specific needs," said Miles Victor, Consumer Banking Manager for Regions in New Orleans. "If you want to make a quick deposit or cash a check, certainly this branch offers the staffing and technology to deliver those services. At the same time, we're available to help people create long-term savings plans, explore options for financing a major purchase, and make informed decisions to help reach other financial goals."
In addition to speaking with the branch's on-site professionals, customers can choose Regions Video Banking in the branch's drive-through and entryway.
Regions Video Banking ATMs connect customers with a Regions representative via live, two-way video during extended hours. Along with processing most teller transactions, Regions Video Bankers can help customers with account maintenance, general inquiries and more, during a set of extended hours.
Video Bankers are available from 7 a.m. – 8 p.m. CT on weekdays. They are also available from 8 a.m. – 5 p.m. on Saturdays, 11 a.m. – 5 p.m. on Sundays and from 8 a.m. – 5 p.m. on most holidays. A demonstration of Regions Video Banking is available here.
Even outside of Video Bankers' hours, the branch's ATMs can always function as DepositSmart ATMs. In addition to dispensing cash and providing account information, DepositSmart ATMs can accept deposits of cash or checks at any time, day or night. They can also cash checks around the clock, providing another quick, convenient option for Regions customers.
"We invite everyone to take a closer look at what Regions is offering our local customers," added Ralston. "Certainly, we see growth in online and mobile banking, and we're constantly investing in technology. But we find that people still prefer to use local branches in addition to our digital services. This branch is a great example of how Regions is staying focused on local, personal service while offering the latest technology and features our customers want."
About Regions Financial Corporation
Regions Financial Corporation (NYSE:RF), with $123 billion in assets, is a member of the S&P 500 Index and is one of the nation's largest full-service providers of consumer and commercial banking, wealth management, mortgage, and insurance products and services. Regions serves customers across the South, Midwest and Texas, and through its subsidiary, Regions Bank, operates approximately 1,500 banking offices and 1,900 ATMs. Additional information about Regions and its full line of products and services can be found at www.regions.com.